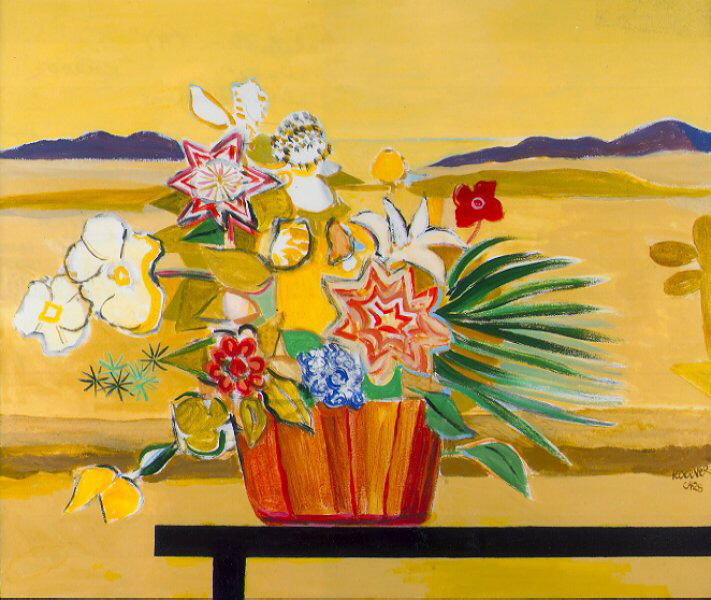 Celebration: Opus 9
42 in x 50 in
acrylic on canvas
Not many artists can claim a successful career spanning more than six decades, but, at 97 years old, esteemed Canadian painter John Koerner continues to surprise viewers with his creative spirit and productivity. The Elliott Louis Gallery is pleased to present "John Koerner, A Retrospective: Six Decades," which celebrates the scope and output of the artist's remarkable career. The exhibition will run from June 21 through July 2, 2011 at the Elliott Louis Gallery in Vancouver. Koerner also will discuss his career and work at a special artist talk at the gallery, slated for Saturday, June 25, 2011 at 1:00 pm.

The first retrospective of Koerner's work in 20 years, the exhibit gathers more than 50 paintings from prestigious private and public collections as well as from the venerable artist's personal collection, most of which have never been publicly released. The show not only reflects the breadth of Koerner's career, but also parallels a time when the city was a fledgling cultural community on Canada's western shores to its current stature as a major North American centre.

The oldest active member of the Vancouver School of Art, which introduced modernism to western Canadian art, Koerner has had a formative influence on the region's painting, counting among his colleagues and close friends Lawren Harris, Gordon Smith and Jack Shadboldt. His work is renowned for its luminous colours, ability to capture light and the meditative, joyful spirit it evokes. Koerner has always maintained an optimistic approach in his work: "Early in my career I decided what the general direction of my work should be, and that despite the horrors and disasters in this world, it would celebrate all positive values," says Koerner.

Born in the former Czechoslovakia in 1913, Koerner began painting when he was four years old. He studied under Fritz Kausek in Prague and with Victor Tischler, Othon Friesz, and Paul Colin in Paris before moving to Canada in 1939. In addition to maintaining an active painting career, Koerner taught drawing and painting at the Vancouver School of Art and the University of British Columbia. His work has been featured in more than 50 solo and group exhibitions, and can be found in dozens of collections across Canada and around the world, among them the Vancouver Art Gallery, the Tokushima Museum in Japan, the National Gallery of Canada, and the Tate Gallery in London.