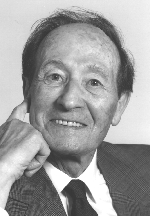 Celebrating his 100th birthday this past September 2013 with a solo retrospective exhibition at the Penticton Art Gallery, artist John Koerner talks about his early years, how he went from Prague to Vancouver, and more - including thoughts on the nature of art and creativity, and some background on several of his series of paintings
in this 32 minute video. To view, click here.
"Early in my career I decided what the general direction of my work should be and that, despite the horrors and disasters in this world, it would celebrate all positive values." – John Koerner

We are affected not only by actions and words but also by the mood of others –even by their thoughts. A work of art is a living force that can act according to the impulse that created it: serenity will transmit its calm, tension will infect in a negative way.
I have often done large groups of paintings on one theme, creating innumerable variations, and returning to it frequently. They all express my view of the physical world and its relationship to the spiritual world.

The Garden of Eden paintings, for example, use landscape elements of my surroundings to hint at the spiritual origin of mankind. A new group of paintings seldom begins from a fleeting experience or a sudden revelation. I have found it comes to the surface of consciousness after an incubation period that may be short or prolonged. Once the concept has ripened, it becomes strong enough to awake you early in the morning and stay in focus even in spite of interruptions or distractions. Then, during the painting process, the tools and materials are persuaded to conform to the theme. At times they also suggest the next move and so the result is a mutual motivation.

Mr. Koerner passed away peacefully at home Sunday, February 23, 2014. He is sorely missed by legions of fans and admirers who valued his peaceful gentle countenace and soulful painting and drawing. Click Here to read the full Globe & Mail obituary.