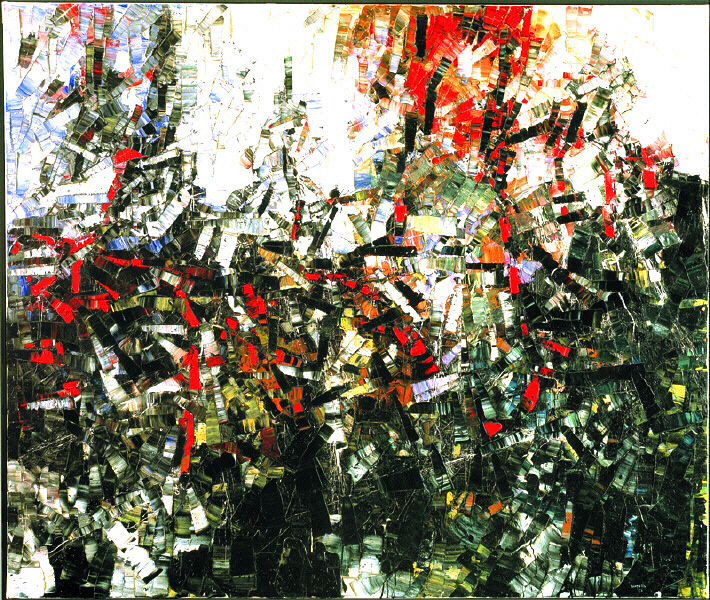 La Foret Ardente
193 cm x 231 cm
oil on canvas
The Elliott Louis Gallery is bringing to Vancouver an eclectic and unique exhibition of works by Montreal-born Jean Paul Riopelle (1923-2002), Canada's radical and renowned contemporary artist of international greatness.
The exhibition opens with a reception Friday, Oct. 1 at and runs until Oct. 24. Previews of the works can be arranged for the week of Sept. 25 to 30 by contacting gallery owner Ted Lederer, 604-736- 3282. A lecture about Riopelle's work has been arranged for October 1st at 4PM, by reservation only.
The massive and stunning oil on canvas, La Foret Ardente, is a brilliant highlight of the show and sale. This 1955 masterpiece, measuring 76 by 91 inches, is from Riopelle's Mosaique period, where he created a sculptural effect to his paintings by squeezing whole tubes of paint directly onto a very large canvas, sometimes using four tubes at a time clamped between the fingers of his hands, and melding the color and form with his palette knife.
Riopelle's prodigious talent is represented with works spanning five decades in this impressive show, including oil on canvas paintings from his seminal 1950's period; a rare, very early 1944 landscape; a magnificent and important 1983 painting from his Les Oies period; watercolours, pastels, lithographs and an original sculpture by the artist.
Click here for information on the Art Talk/Lecture.