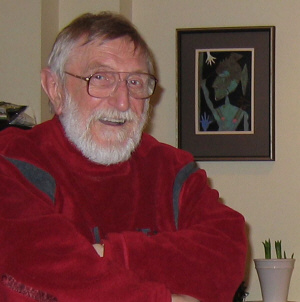 Born in Vancouver on Christmas Day, 1918, Peter Aspell was well-respected as one of Canada's finest colourists. Lawren Harris of the Group of Seven chose Aspell's work to represent young Canadian painters in post-war Prague. He was included in Ian McNairn's Seven West Coast Painters exhibition organized by UBC's Fine Arts Gallery in 1959. A contemporary of Gordon Smith and Jack Shadbolt, his work has been collected by the National Gallery of Canada, Vancouver Art Gallery, UBC, among others.

Aspell has been called a complete original, an artist who invented a repertoire of voices from figurative to pictographic to pure abstraction. His paintings are a sensual journey into history and literature, allegory and myth; it can be said they unveil the hidden workings of the soul.

Aspell trained at the Vancouver School of Art from 1937-1941, and also at the Academie de Ghent in Belgium. He went on to teach at the Vancouver School of Art, 1948 – 70; the University of British Columbia, 1965; and the Peter Aspell School of Art, Vancouver, 1970 – 78.

Affiliations: BCSA 1950 – 63; CGP 1957.

Peter passed away in Vancouver on December 28, 2004. He is missed by the countless individuals whose lives he so genuinely and generously touched.