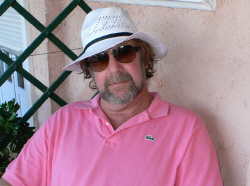 As someone who expressed his feeling through pictures, Steve developed an appreciation for photography, inspired by the stunning light and rugged landscapes of Africa. Knowing that he would follow his passion for photography Steve started his career at the legendary album cover design group, Hipgnosis - an experience that shaped his ability to view the everyday in a very different way.


Gordon's work speaks for itself. His work has been featured in
National Geographic, Communication Arts, Japan Art Directors, One Show, D&AD. His work has won awards in Cannes, New York Art Directors, London International Awards, Clio's, Graphis and The One Show.


Mr. Gordon's work has shown
at
galleries around the world, including London, Paris, South Africa, Lisbon, Porto, Toronto and Vancouver.
He has had group shows with
the likes of Annie Liebovitz, the Late Herb Ritts, Nick Brandt, Michael Kenna and Sam Haskins.


Steve has been very involved with
organizing charity shows for the Nelson Mandela Childrens Foundation,
Doctors without Borders, Watercan and Unicef.


For Steve there is no separation between his life, his work and his art, and as he puts it " My photography has become a visual means to express myself. Through it, I can show how I
see and also how I feel"