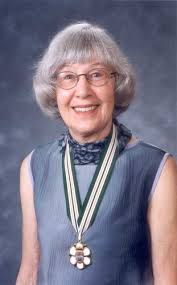 Gathie Falk, CM, OBC (1928)
Born: 1928 - Alexander, Manitoba, Canada
An important Canadian sculptor, painter, ceramist, printmaker, muralist, and performance artist, Gathie Falk was born in Alexander, Manitoba (about 140 miles west of Winnipeg) and has lived in Vancouver, British Columbia since 1947. She is discussed in virtually every recent comprehensive Canadian art history book, her works have been included in dozens of landmark exhibitions, and her paintings and sculptures are in the permanent collections of many major Canadian museums. She is also the recipient of numerous awards and honors including one of her country's highest - the Order of Canada and the Order of British Columbia.
At one time, Falk was a pupil of Lawren Harris, one of the artists from the Group of Seven.
Falk has participated in group and solo exhibitions in Canada, the United States, France and Japan. A major retrospective show of her work at the Vancouver Art Gallery in 2000 later toured to various Canadian galleries including the National Gallery of Canada.