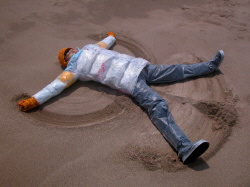 Ya-chu Kang was born in Taiwan and received her MFA in textile from Tainan National University of Arts, and BFA in sculpture from National Taiwan University of the Arts, Taipei. Her work examines the relationships between environment and human bodies, as well as personal reactions to exteriors like nature, building, clothing, envelopes and commercial packaging. She eliminates the boundary between usable items and sculpture — the functional and the aesthetic. Ya-chu intends her work to be a social response to a world she views as an increasingly preposterous phenomenon. She forms her hollow sculpture from paper, plastic, cardboard, coffee filters, tea bags, and pages from old books, comic books, and newspapers. In using such a vast array of recycled materials, Ya-chu conveys a sense of the insignificant corners and in-between spaces that surround us.

Kang had been showed her work in Taiwan, NY, Munich, Lithuania, Syria , Nepal, Okinawa and Vancouver, and did residency programs in Taiwan, USA, Bangladesh, Jordan and Japan. 2010, she was participating with the LunarFest exhibition and performance in the Candahar bar which are part of Cultural Olympiad programming in Downtown Vancouver. She has the residency program in Banciao435 International art village and the residency program in TAV in Taipei in the end of 2010. She also has two solo exhibition in Japan and Taipei in 2010, and one solo exhibition in Suho Paper Museum in Taipei in 2011.

Now Ya-chu is working on mix-media sculpture, drawing, felt painting, installation, video. She is living and working in Taipei, Taiwan and Vancouver, Canada.