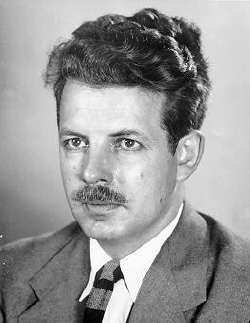 Born in Toronto, Ontario April 3, 1915
Died in Sechelt, British Columbia May 6, 2005

Lionel Thomas was known for his mosaic murals and public art sculptures commissioned by universities, churches, provincial governments and private businesses in British Colombia and other provinces. Prior to his career in public art, he created semi-abstract paintings in oil, tempera and other media, and later created intaglio etchings and enameled copper plaques based on astronomy.

Born and raised in Toronto Thomas studied figurative art at a number of schools in the city including the John Russell School of Fine Arts (1933-35), the Ontario College of Art (1936-37), and the Karl Godwin School of Illustration (1937). In 1940 Thomas and his wife and fellow artist Patricia (nee Simons) moved to Vancouver where in 1940 Thomas began his teaching career at the Vancouver School of Art.

In the summer of 1947, Thomas studied modernist aesthetics and design at the graduate level at the Hans Hofmann School of Fine Arts, Provincetown, Massachusetts. Supported by a scholarship from the Emily Carr Trust Fund. He returned to graduate studies in the summer of 1949, at the California School of Fine Arts, San Francisco, with abstract expressionist Mark Rothko. There he also studied principles of constructivism and sculpture with Ernst Mundt. These studies greatly influenced his abstract use of colour to create spatial effects on canvas and also informed his sense of design when creating modern sculptural commissions for architecture.

From the 1940s to 1960s, Thomas exhibited his paintings extensively in Canada and internationally; at the Montreal Museum of Fine Arts (1949), Hart House, Toronto, (1950), Grand Central Galleries, NY, (1952), the National Gallery of Canada (1953), the Sao Paulo Biennial (1954), Seoul, Korea, the Seattle Art Museum (1954), and the University of San Francisco (1960) amongst others.

In 1973, Thomas began a series of enameled copper plaques that interpreted elements of the universe, such as galaxies, solar systems and constellations. He created designs incorporating astronomical signs and symbols in brilliant colours, some overlaid with gold and silver. He also produced a series of intaglio etchings inspired by these themes.

In 2005, CAUSA (Collective for Advanced and Unified Studies in the Visual Arts) organized an exhibition featuring Lionel and Patricia Thomas' works at the Belkin Satellite, in association with the University of British Columbia's Morris and Helen Belkin Art Gallery, Vancouver.