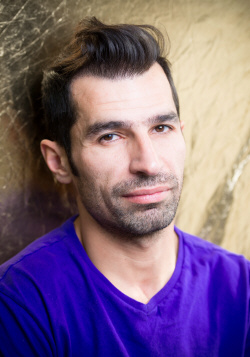 Kambiz Sharif, was born in 1978 in Tabriz, Iran. During his teenage years he developed an interest in art, taking pictures and drawing sketches and using different materials, clay, wood, etc. to make models. From 1992 to 1996 Kambiz attended the Mirak Arts School in Tabriz, earning his Art Diploma.

After graduation Sharif moved to Tehran where he opened a studio and began working in sculpture full-time, using form to express his thoughts and feelings. Largely a self-taught sculptor, Sharif opened his own sculptural school in 2001 with classes in clay, wood, stone, and in bronze casting.

In 2009 Kambiz Sharif migrated to Vancouver Canada, starting a new phase of his career and life. Opening a studio in Vancouver he continues his sculptural practice. As always, Sharif's abstract works utilize intricate conceptual ideas and draw their inspiration from the broader social world as well as everyday life and timeless concepts of beauty.

During his years as a practicing artist, Kambiz has received many awards and recognitions, including the first place prize in the Third Tehran Sculpture Biennial in 2002, a diploma in Arts from the Ministry of Arts and Culture in 2003, and the Diploma of Courageous Ideas in Art from the Forth Tehran Sculpture Biennial in 2004. At ArtDubai (Dubai 2015) Kambiz' work was in such high demand he "sold out" on the first day.

Kambiz Sharif is a member of the Institute for the Promotion of Visual Arts in Iran, a member of the Society of Iranian Sculptors in Tehran, Iran, and a member of the International Sculptors Center. His works have been shown both in solo and group exhibitions in Iran as well as in galleries internationally.