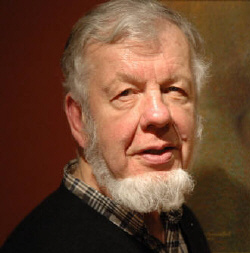 "I paint because it creates a sense of joy, of relief during that original confrontation with reality. The act of painting is in itself a way to sustain that emotion of the mind and heart. Through my work I try to build a similar response in others".

-Tom Forrestall, 1976, from Tom Forrestall: Paintings, Drawings, Writings


Forrestall's images of Atlantic Canadian rural landscapes are infused with a mystical, transcendent and fascinating quality. Through his characteristic "magic realism" style and the use of shaped canvases, Forrestall combines reality, poetry, and a metaphysical dimension that transcends a spiritual and emotional energy to the viewer. The tensions between dream and reality – between life and art – are what give his art its dynamism and power.

Forrestall's creativity is expressed through three primary disciplines—drawing, painting, and writing. His drawings and paintings record his artistic vocabulary and capture his visions from his imagination and the spirit of what he sees with his eyes. His writings explore and record ideas relating to his artistic and spiritual life, his family, and his surroundings, and probe the nature of his creativity, his hopes and dreams, and the source of his visions.