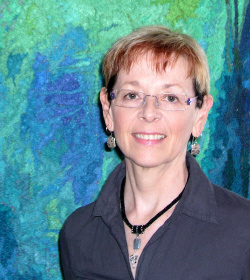 Textiles are the unsung heroines of cultural exploration. A fiber artist today probes the history and significance of historical textiles, but also explores the relationships and possibilities in a contemporary world. Building on the foundation of traditional fibre and art practices, a new art medium is created with new possibilities of design, expression, and ideology. Today's fiber artist utilizes a large variety of techniques; painting, dyeing, printing, collage, gilding, sculpture, hand embroidery, machine stitching and more.

Currently, Kenyon is exploring the creation of cloth with stitch only, Thread Painting. This requires a foundation (stabilizer) on which to stitch that can be dissolved at the end of the project. Working in this way, the artist is essentially drawing & painting with thread, instead of using other traditional painting mediums. Thread Painting creates exceptional detail and texture that are not possible with any other technique, and Kenyon is exploring both the natural and the urban world in her present imagery.

Along with many years of study of weaving, painting, and printmaking, Jane earned an Art and Design for Embroidery Certificate from London, England. Her artwork can be found in corporate collections in Vancouver and private collections in Canada and the U.S., as well as the Korean Craft Museum, Canadian Embassy in Seoul, Canada Council Art Bank, Saskatchewan Art Bank collections and the World Textile Association in Miami, FL.