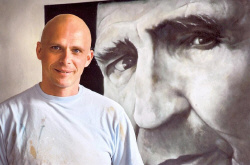 I have had a paintbrush or pencil in my hand from a very young age, and a gift of being able to transmit my ideas onto paper or canvas. I have also been blessed with having excellent teachers and a family that always gave me enormous encouragement to pursue my vision of becoming an artist. My technical ability, imagination and exploration of different mediums have made sure that I am very versatile with my art, in subject and technique.

It was not until I was at least thirty that I came to understand what painting really means for me. By then I had become familiar with the works of Otto Dix, Lucian Freud and above all the Dutch, Flemish and Italian artists of the Middle Ages and Renaissance.
I suddenly knew that painting could achieve something that no camera could ever achieve, that for me art was to be a means by which a new world could be revealed, a world seen only within my mind.

Gradually I started to comment in my own way on the beauties and follies surrounding me.