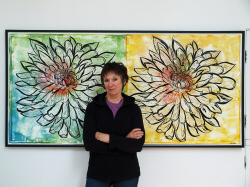 "Throughout my painting life, all of my works, mostly rendered on canvas and paper are very much representative of my life, the time of year and most of all the place where I live. I have always drawn my inspiration from nature. The artist's job, I believe is to awaken the viewer's eye to investigate a visual idea and see something totally new in an ordinary subject."
The `MY VIEW` series germinated from a move to Kitsilano in 2016. My current work space looks north over a very distinct wood balcony on to a busy neighbourhood full of noise and commotion. In the background loom the north shore mountains. In the foreground, an intense city scape including news helicopters, lines of traffic, seagulls and crows! All this activity inspired me to render several paintings with these images in mind.
Part of this body of work are six travel paintings depicting the crossing of Canada by car from Ontario to British Columbia last summer.
Jane Adams 2018