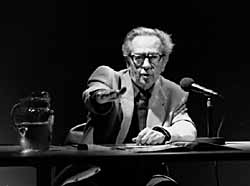 "I wake up every morning as if I were just born." Jacques de Tonnancour, 1985.

To be born and re-born could describe the prolific career of Jacques de Tonnancour. He has explored many avenues along the way, delving into various fields, not only within the art world as a painter, but also as a critic, professor, jewelry designer, collector and photographer of insects!

Born in Montreal in 1917, the young Jacques de Tonnancour developed a passion for drawing and collecting insects. When making his decision about the course his university studies would take, he hesitated between following either his passion for entomology or his love and talent for the fine-arts. He found a happy medium by choosing to study naturalistic representation in art. He discovered that art "does not have as its ultimate goal to reproduce reality but to transpose it and convert it into metaphorical images in which the real becomes a point of departure and not a point to arrive at." Eventually, exasperated by academic teaching, he left school and dedicated himself to art and criticism. He met Pellan and Borduas, but it was the influence of Matisse and Goodridge Roberts who reached him on a spiritual level. Roberts led him to discover the importance of stillness and silence in sculpture, in striving to express the eternal in art. In 1945, he obtained a bursary from the Brazilian government, which gave him the opportunity to spend a year in Rio de Janeiro. When he returned to Québec, he decided to join Pellan in the debates that animated the art scene at the time and devised the manifesto "Prisme d'yeux" declaring that their aim was to "liberate art from the constraints of time and place, from the restrictive hold of ideology; to create outside of all reference to literature, politics, philosophy," or to anything else that might prevent free expression.

Curiously enough, de Tonnancour had to struggle with an internal battle when he confronted Picasso's Nature morte à la table ronde, 1948. It paralyzed him to the extent that he stopped painting for four years, during which time he struggled to grasp what had struck him so profoundly in Picasso's work. De Tonnancour's painting, Hibou en cage (1954), brought him towards a certain degree of self-awareness: he sees this painting as a self-portrait describing his moment of impasse. Finally liberated from this creative struggle, he took up painting again and produced a series of Laurentien landscapes, a magnificent synthesis of his reflection on silence and space. He pushed his exploration to the extreme of the non-figurative in his Bord de lac reflété II of 1963. In developing a "squeegee" technique, his pulled his forms along horizontal planes. He later experimented with collage, "peintures-écritures," and "fossil" paintings, delving into metaphorical strata of human civilization.

De Tonnancour's public works also deserve mention: at the Planétarium de Montréal, for example, and at the Université de Montréal. He participated in a colloquium on creativity that took him to South America in 1975. This voyage led to numerous expeditions through the tropical forests and eventually he would travel to the four corners of the world. In 1982, he left painting and took his retreat from teaching at the École des Beaux-Arts de Montréal to dedicate himself fully to collecting and photographing insects.

Those wishing to learn more about this artist can consult the book, Entretiens avec Jacques de Tonnancour - De l'art et de la nature, where the artist talks of his rich and varied experiences throughout life in conversation with Pierre Bourgie, President of the administrative council at the Musée d'art contemporain de Montréal. [104 pages, with 34 colour reproductions; includes a preface by Josée Bélisle, the curator of the permanent collection at the museum.* ]

* translated from the Communiqués de presse issued by the Musée d'art contemporain de Montréal.