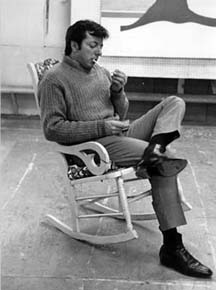 1926-1998

William Ronald, was born in Stratford, Ontario. He studied at the Ontario College of Art, Toronto with Jock MacDonald, Carl Schaefer, Will Ogilvie and others; also with Hans Hofmann in New York. He won an I.O.D.E. scholarship in 1951 and a Canadian Amateur Hockey Association scholarship in 1954. He was a member of the Painters Eleven group, Toronto.

In the mid-1950s, after travelling frequently between Toronto and New York, he made the move to New York. There he was influenced by the fragmentary, explosive painting of Willem de Kooning; in his own work he created large central images with a background horizon line. In 1957 he had his first exhibition in the Samuel Kootz Gallery, with which he remained until 1963.
In the mid-1960s he made the decision to return to Canada.

While working on a 1967 mural commission at the National Arts Centre in Ottawa, Ronald's style evolved into a more hard-edged format prophetic of the 1970s in Canadian art. Through the years he maintained his interest in automatic painting, using a vocabulary of symbols, often central images, that interested him. He also had a career as a broadcaster; he was host for the CBC radio program As it Happens (1969-72) and of a TV variety show about the arts, The Umbrella (1966-67). His work of the 1980s included a series of abstract paintings of the prime ministers.