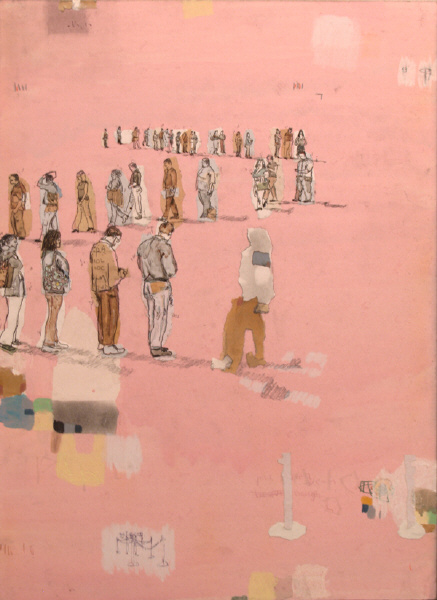 Safety Instructions 9
20 in x 14.5 in
mixed media
Portable Walls is a collaborative exhibition of new work by Christian Nicolay and Ya-chu Kang exploring contemporary narratives of safety and identity, man and women, East and West, in a post 9-11 age where it seems more rules, regulations and checks on our privacy continue to grow and change. Through the use of video, sculpture, mixed media drawing and installation the artists collectively and individually explore the polarities between life and death, public and private, safety and danger, comfort and distress particularly examining the similarities and differences between Canada and Taiwan.
Both artists work deal with found material of the everyday from various topographical landscapes like Nicolay's mixed media on paper drawings or Kang's reconstructions into sculptural forms and clothes. Through this exhibition the artists individual and collective works examine cultural borders and social constructions of the human identity and how we identify ourselves in a growing global fabric increasingly becoming crisscrossed and blurred.
In 2012, the video Recoil won the Make it Short Video Contest award based at the NW Film Center in Portland. Click to view Recoil video
Recoil is a collaborative video work in which Nicolay and Kang play with the idea of Safety by repetitiously popping balloons held close to their faces. This explores the human body's reflex and reaction of external energy by expanding and blowing up balloons. The tension created in the moments between the balloon and the human body displays the different response from man and woman, western and eastern. The spontaneous explosions create random patterns of colour through strain and pressure causing the inevitable recoil and an invisible boundary of attraction and repulsion. Christian Nicolay & Ya-chu Kang started collaborating in 2010 and have exhibited their projects in Canada, Taiwan, Finland, Japan and upcoming at the Schmiede Art Festival in Austria.
A Catalog Launch, Artist Performance and Closing Reception will take place on Saturday, April 21st from 2:00 to 4:00 pm at the gallery. (Catalogs can be pre-ordered). There is no fee to attend and all are welcome.