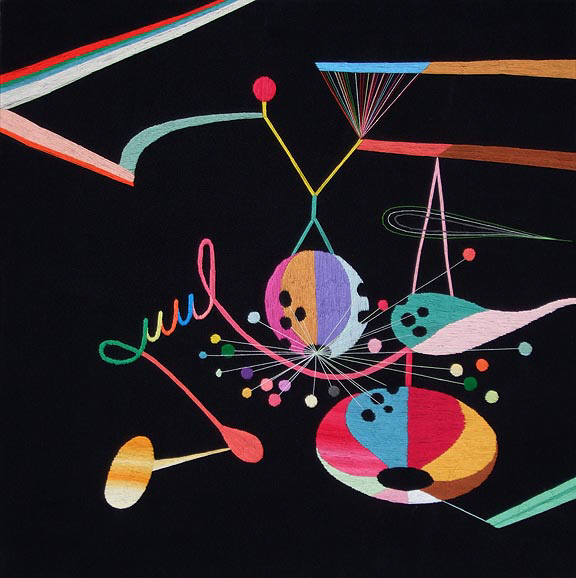 Kamidaredentou
16 in x 16 in
embroidery on fabric
Elliott Louis Gallery joins this year's Drawn Festival with a two-person exhibition that
brings together iconic charcoal drawings of trees by New York artist Mary Hrbacek and
the whimsically surreal drawings in thread by Winnipeg's Takashi Iwasaki.
To Mary Hrbacek a tree is a thing of spiritual sustenance and renewal. Her trees endowed
with human-like qualities become the embodiment of mankind's condition: the rising sap
is the spirit of life, sexuality and regeneration, the barren winter branches and broken
limbs foretell of immanent ecological disaster, disease and death. Hrbacek's trees exert a
powerful emotional influence.
The biomorphic forms and imaginative abstractions that Takashi Iwasaki has envisioned
demonstrate a light-hearted playful sense of humor and optimism. With an intense use of
color, fanciful shapes, and a wide array of media, Iwasaki has created a body of
provocative work using pencil, paint, collage and embroidery that is overflowing with
imagination, intense beauty, and elegance.
While stylistically and thematically diverse both Hrbacek and Iwasaki create works with
the belief that art can exist as the most powerful and most beautiful medium of human
communication.
Curated by Lynn Ruscheinsky.