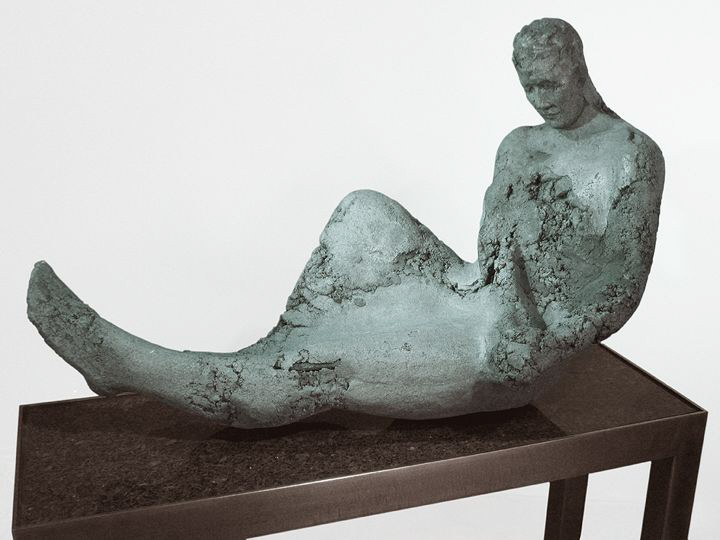 Reclining Male I
22 in x 32 in
cast concrete
Figure & Ground: Frances Semple and Carolyn Stockbridge
Curated by Lynn Ruscheinsky, Ph.D.

Figure & Ground is a two-person show highlighting the contemporary abstract painting of Carolyn Stockbridge and the three-dimensional figurative sculpture of Frances Semple. Stockbridge's playful, colorful and evocative paintings complement rather than contrast with the muted concrete surfaces of Semple's captivating figures. While the technique of painter and sculptor may differ, their emphasis on dynamic, energetic gesture and an attention to the physicality of their materials is much the same.

The charm of Semple's figurative work lay in her ability to communicate the subtlety of human emotion through a simple gesture, the tilt of a head or turn of a hand. Whereas it is the directness and immediacy of expression, the gesture that is evidence of the actual process of the work's creation that gives Stockbridge's painting its' primal beauty.

Both artists' work is characterized by a strong dependence on what appears to be accident and chance. The expressively textured surface of Semple's Reclining Male while appearing to be inadvertent is in fact a purposeful and creative choice that gives the work its' essential meaning; the fissured and eroded torso forces us to look beyond mere appearances into the depths of our own mortality. Equally, the appearance of spontaneity and improvisation in the random drips, scumbled brushwork and exposed under-painting of Boobytrap not only belie the concentrated work involved in Stockbridge's process but make visible the unknowable and uncontainable creative force of the universe that we experience as chaos.

While these artists value the qualities of their materials and the act of painting and sculpting, the essential or primary aesthetic focus of both Stockbridge and Semple is fundamentally a sensory or an emotional experience for the viewer. Satisfaction is in the freedom to roam around the sculpture or painted surface, in time and space, observing and experiencing the colours and forms, the rhythms and tensions, hospitable to sensuous and imaginative experience. Figure & Ground is an experience of movement and action as an imaginative participation in the act of creating.

Lynn Ruscheinsky, Ph.D.