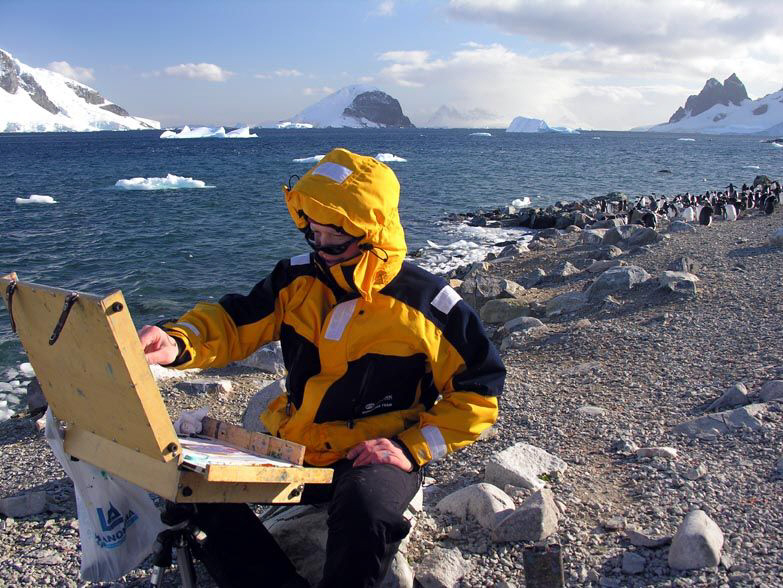 photo, artist painting in Antarctica
in x in
For the past few years I have been privileged to experience unique travel adventures. My painting journeys have taken me from the high Arctic down to Antarctica on board Russian icebreakers. I've enjoyed autumn seasons from the Laurentides Mountains of Quebec, to the southern Andes in Patagonia, and back to my cabin on Atlin Lake on the edge of the Yukon and Alaska.
As always, I devoted significant time to painting pleine air in locations that provided me with new challenges such as in Antarctica and Patagonia. Painting among thousands of penguins created a beautiful distraction from technical challenges. Since my main colour harmonies reflect an autumn palette, painting minimally coloured subjects such as ice, rock and snow, gave me a new insight into colour mixing and a greater range of harmonies of cool and warm greys.
Seeing the world by traveling is one's greatest education. It was my childhood dream to visit Patagonia, the "End of the World". After disembarking from the Russian ship following the voyage to Antarctica, I continued North through Tierra del Fuego. While in locations such as Patagonia's Torres del Paine, my pleine air paintings become a travel journal. Even now after many months, I still recall sounds, smells and impressions of the place.
Because of these experiences, I feel obliged to give something back and I am doing that through teaching and slide presentations. It gives me an opportunity to condense my thoughts and channel them into future studio paintings, which are based on very real experiences. As one my teachers and friend Gernot Dick of Atlin Art Centre said, "Live through experience" I try to implement that in my everyday life, either through painting, hiking in new mountain ranges or simply cutting fire wood for the winter.
To see Modlinski's interview that was featured on the CTV News at 6 PM, Oct 27, and again on the CTV National News at 8:00 AM, Oct 28, click here.