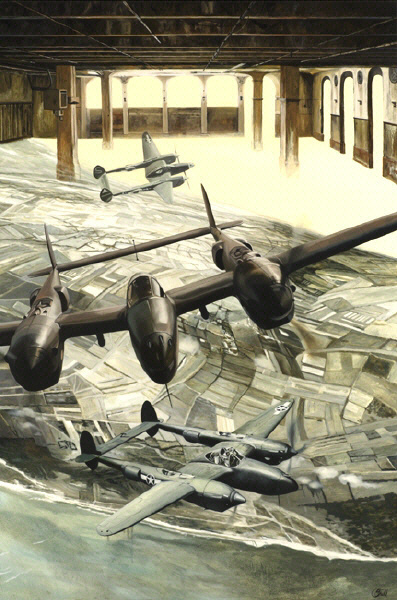 The Architects of Heaven: Lightning
60 in x 40 in
oil on canvas
'The Architects of Heaven' series was so named after reading the lines 'Composer, sculptor, painter, poet, prophet, sage - these are the makers of the after-world, the architects of heaven. The world is beautiful because they have lived. Without them, laboring humanity would perish' - from 'As a Man Thinketh' by James Allen.

Though the above lines referred to the artist directly, I felt they also applied to the pilots and their crews who lost their lives in WWII, having made the world a better place and without whom, 'laboring humanity would perish.' With such courage, daring and integrity, at impossibly young ages, I felt their essence to be somewhat indelible – that there must be another dimension, an afterlife perhaps, where they still flew and the lost buildings still stood – somewhat tattered, gritty and worn, but continuing on with all that could not be destroyed. I created the series to honour these men and their machines – and to envision a place where they will always exist. It is irony that man's creation of the most amazing machine – one that could fly – could also destroy and be destroyed.

I had already been attracted to WWII warplanes and began painting images of them many years before; the first in 1984, a Spitfire flying low over an airfield. And then later, completed on the 60th anniversary of D-Day, 'Alley Marauder', a B-26 Marauder with D-Day stripes flying daringly and impossibly through an alley between buildings.

I was intrigued with the old buildings that were reminiscent of all the haunting shelled and bombed structures left after the war. The peeling layers of ruin are indicative of the eras of humanity who passed through their walls, each adding paint, wallpaper and plaster. As such, they stand for many people, many times. They take their place in the afterlife like a discarded cocoon where something has lived and moved on to a new metamorphosis.