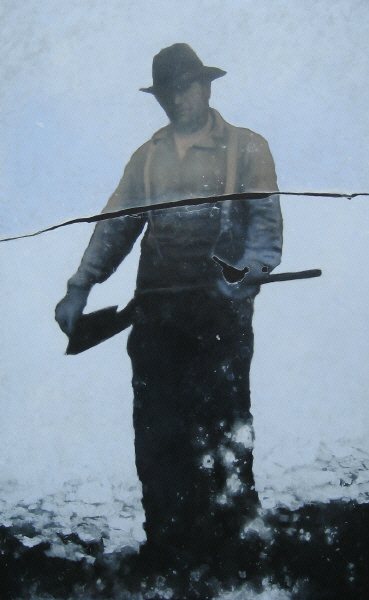 Claimstaker V
72 in x 45 in
oil on canvas
Painting the portraits of historical prospectors, proudly armed colonialists, or sentimental heroes is a romantic act. Painting the flaws found in the photographs that capture these figures is an act that challenges the romantic, metaphorically suggesting the faults these posing subjects represent historically.

The subjects chosen for Imperfect Pictures come from photographs of western Canadian colonial history. Archival images of Canada's early west are my sources, from which I paint characters of personal interest. These figures are usually problematic, celebratory symbols of colonial dominance or heroic sentimentalism; however, the completed work expresses an intersection between such romanticism with criticism.

As a painter, I am inspired by early photography – daguerreotypes, tintypes, pinhole imagery, etc. Initially, I paint the figure whose photograph had been taken. Upon this figure I then exploit the physically flawed, cracked and faded qualities found in the photograph, or perhaps found in another photograph, mimicking them in a fashion that subverts the romantic subject matter. The painted flaws are abstract in comparison to the painted figure, viscerally disrupting the historical figure and what it might represent.
A lot of my abstract marks are also motivated by the deteriorated effects found in early cinema. While much care is currently being taken to clean up the dirty and scratched frames of damaged films, I find interest in the random placement of such damage and the formal or metaphorical possibilities their obscuring effect might have upon the content of the picture. I will slow down and pause certain frames of an older un-repaired film on video/dvd in order to examine the deteriorated effects which may inform my painting.
Someone contemporary whose work I look at is filmmaker Guy Maddin. As well, the recent exposure of photographer Miroslav Tichy has had an influence on me due to the manner in which obscured surfaces of a work might affect the reading of the subjects beneath.