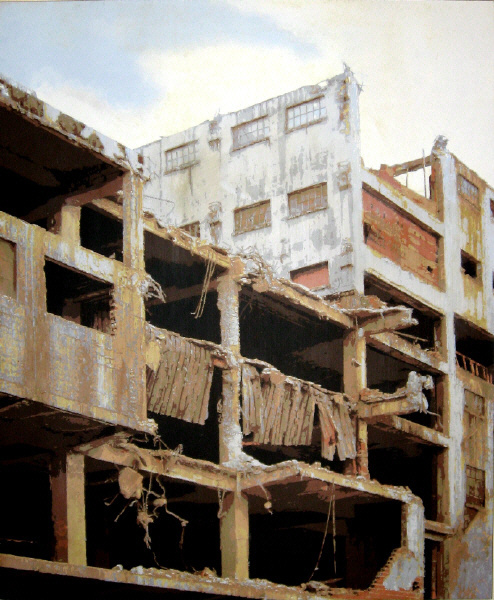 A New Beginning
36 in x 30 in
acrylic on panel
DYSTOPIA, the upcoming exhibit by self-taught Vancouver mixed media artist, Devitt Brown, aka "the dark", is experimentation with stencils and dramatic photorealistic images of refineries, abandoned or bombed buildings and crashed SUV's.
"DYSTOPIA", from the Greek for 'bad place', was used in 19th century England to describe those who saw the perils and ultimate impact of the Industrial Revolution and mass production. the dark sees a progression from this to today's Technological Revolution, a collision course unleashed between what is seen and what is felt. By dissecting photographs and rebuilding the images with muted color, an awareness is created of our 'disposable society with an effect that is RAW ...EMOTIONAL ... and ... REAL.

The end result by street / graffiti / fine artist, the dark, is a powerful collection of work depicting crippling despair, destruction, joy and rebuilding which underscores the message that we are in peril of disposing of ourselves, our environment and the structures we create.