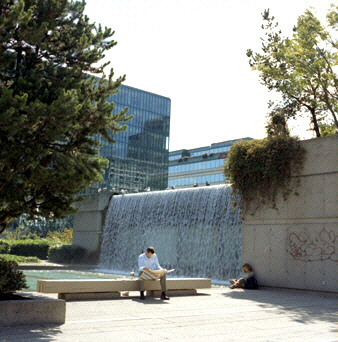 Lunch break, Robson Square, Vancouver (edition of 5)
20 in x 20 in
c-print
Touring Canada and Germany and presented by the Goethe-Institut Montreal, is an exhibit of photographs by Etta Gerdes detailing the work of acclaimed landscape architect Cornelia Hahn Oberlander.
Cornelia Oberlander has shaped Canadian cities with her parks and roof gardens, integrating technical innovations with ecological and social sensitivities to create her landscape designs. Her open spaces in cities are designed to improve the air quality, shelter city dwellers from traffic noise, and give residents a space to relax and replenish. Indicative of her vision is Robson Square in downtown Vancouver, an extraordinary integration of landscape architecture with architecture.
Ann Thomas, curator of photography at the National Gallery of Canada, selected the photogrpaher and curated the exhibition. German photographer Etta Gerdes will be in attendance.