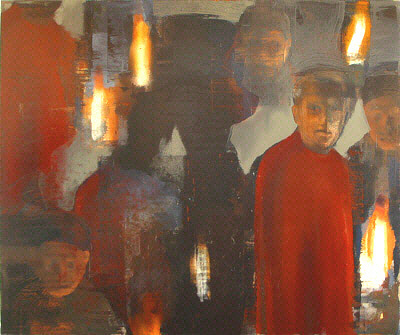 Torchlight
94 in x 112 in
oil on canvas
Inaugurating our Fall 2005 series are three artists, three different mediums, three different techniques.
David Luksha, encaustis (wax and oil paint) creates liminescent layered works that are beguilingly sculptural.
Jim Gislason, oil on mesh, unique and orriginal interpretations of universal themes in a contemporary format.
Philip Buller, oil on canvas, contemporary presentation of classical themes referencing Renaissance imagery.
In Gallery ll, "Give Peace a Chance". Photographs by Gerry Deiter recollect the 1969 Montreal Bed-In of John lennon and Yoko Ono. It was at this event that the 60's anthem, "Give Peace a Chance" was composed and recorded.