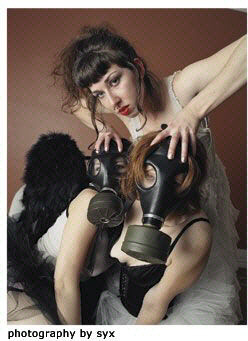 Trinity
16 in x 12 in
photograph
The Elliott Louis Gallery and Fracture Industries are pleased to announce the sixth installment of the ongoing series of Cheaper Than A One Night Stand shows. We have sifted and juried the subterranean art world from Vancouver to Toronto, Pittsburgh to Los Angeles, to bring together artists and artwork for sale in one venue, for one evening only.

Saturday, May 1st, approx. 150 pieces of artwork from over eighty painters, grafitti artists, illustrators and photographers will sell for $150.00 each. (Cash only please). The work can be previewed May 1st, noon to 5:00 pm. The exhibition is open for sales from 8:00 pm-12:00 am. Purchased artwork can be collected from 11 pm to midnight or the following morning.

Jury members include; the folks at Fracture Industries, Gallery Director Ted Lederer, artist Davida Kidd, and collectors Ian Davidson and Jim Mouzourakis.

To see more from Fracture Industries click here.