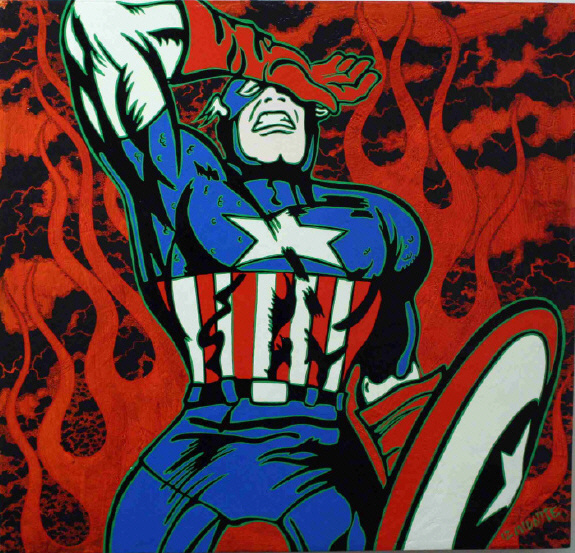 Heroism Addiction
36 in x 37.75 in
automotive enamel on board
Taking Liberties, the first 12 Midnite show at the Elliott Louis Gallery, marks the evolution of Midnite's foray into car culture, graffiti, neon, comic books and advertising art, culminating in a pop noir world of modern paranoia.

His trademark hard edge pop style blends aspects of commercial sign painting and hot rod pin-striping with both traditional and non-traditional painting methods and materials.

Ranging from rich textured surfaces to shiny space-age plastic and pearlescent automotive finishes, many of the new works incorporate neon as both the light source for the work and focal exclamation point that is impossible to ignore.

A true social critic who cut his artistic teeth as a political street artist, Midnite's new work examines cultural clichés by calling on iconic imagery. Midnite challenges the viewer to bring their own experience and prejudices into the artistic equation. In this way, and in accordance with one's own particular world view, a neon-lit car crash can become a commentary on modern American excess, an allegory for wasted potential, or simply stand as an explosive decorative object.