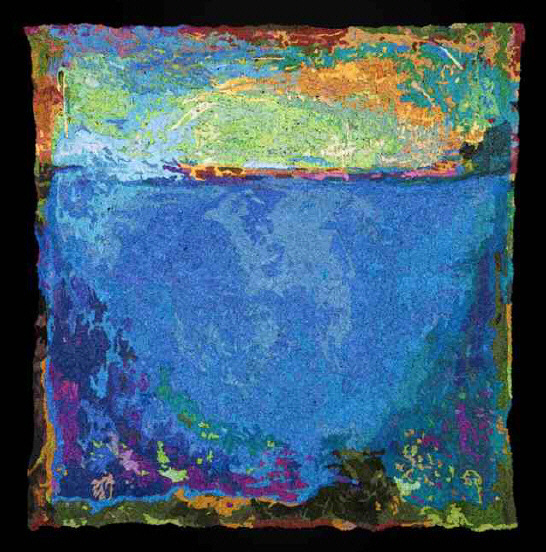 Landscape Study - Water
40 in x 40 in
Thread Painting: rayon & cotton sewing thread
Works of four artists who have recently become represented by the Elliott Louis Gallery and who have not shown at the gallery before.
Ted Harrison, well known Canadian painter whose work came to national prominence as a result of his Yukon paintings.

Jane Kenyon, respected and acclaimed fabric artist whose thread paintings are beautiful, complex and iconic.
Alan Fulle, Seattle sculptor working with resin, paint, glass, wood, metal and concrete is known as a maximalist and materials based abstract artist.
Jack Rootman, a Vancouver Painter interested in the boundaries between psychological impact, asthetic formality, and sensuality created by media and subject matter.

Additionally, the photographic work of Lawrence Mcdonald is being displayed through the use of "QR codes", along with artist and gallery videos as QR Codes that can be accessed with any "smart" phone.
Click here to read more about Lawrence McDonald's usage of QR code technology.
Artist Talk: On Saturday, November 20th, from 1:00 to 2:00 pm, Jane Kenyon will give a free talk on her sources of inspiration, her design process, and the techniques she uses to create her unique thread paintings. RSVP is appreciated.