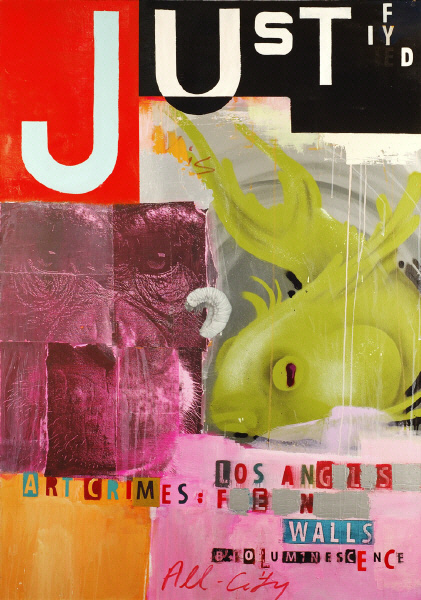 justiFYD
59.5 in x 42 in
oil, acrylic & collage on canvas
justiFYD: Art Crimes in America
. a collaborative art project combining street art (graffiti) with studio painting by Vancouver artist Bruce Pashak.
. to bring the rawness of street art combined with studio painting into the established gallery setting/arena. The Gallery has long held the distinction of being the purveyor of a art taste and status and, most importantly, value.
. the Gallery, through curatorial choice, determines what art will be displayed and accepted as worthy for consumption.
. the Exhibition entitled "justifiFYD" challenges the hierarchy of gallery protocol and it's position as the overseer of art values.
. "justiFYD" introduces a radical form of art-making normally positioned external to the gallery.
. artist Bruce Pashak has appropriated the art of the street (street artist "easer one" "bombed" his canvases) in a collaborative manner combining studio painting techniques with gestural spray can applications
. Bruce Pashak painted into the images sprayed onto his canvases producing a hybrid artform combining street art with studio painting.
. the paintings that form the exhibition "justFYD" bring into question: a) the role of the gallery in determining art value(s); b) the appropriation of art images; and; c) authorship or the question of who owns an image and what are the criteria that determine ownership.
. justiFYD opens a dialogue between producer and seller, producer and producer and the constructed value of art both as a product for consumption and contemplation.
For a review of the exhibition: http://www.theprovince.com/entertainment/Portraits+Artist+Pashak+pushes+boundaries+with+collision+traditional/3633866/story.html