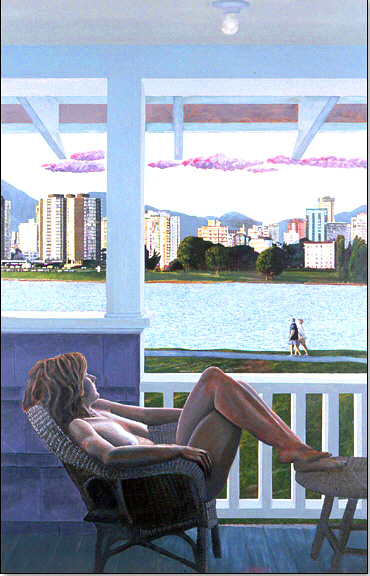 Millie at English Bay
77.5 in x 48 in
acrylic on linen
"The artist provides us new ways of seeing the ordinary."
Doug Robinson's beautifully constructed contemporary paintings merges traditional techniques with photo realism to depict the common place. Upon examination, the ordinary, is not really so ordinary.
Robinson's exhibition "Wonderland" is a combination of contemporary realism, classical composition and use of optics with a modern sensibility.
The painter thinks of these works as "broken narratives", almost like Rorschach ink blots. The viewer is invited to complete the narrative, there is no wrong answer.
"Wonderland" is at the Elliott Louis Gallery October 21st-November 8th, with an opening reception Thursday, October 23rd, 6:30-8:30 pm. The artist will be in attendance.
Expertly and strikingly curated by Dr. Lynn Ruscheinsky, Wonderland pleases our curiosity and renews our own sense of wonder at our everyday lives.