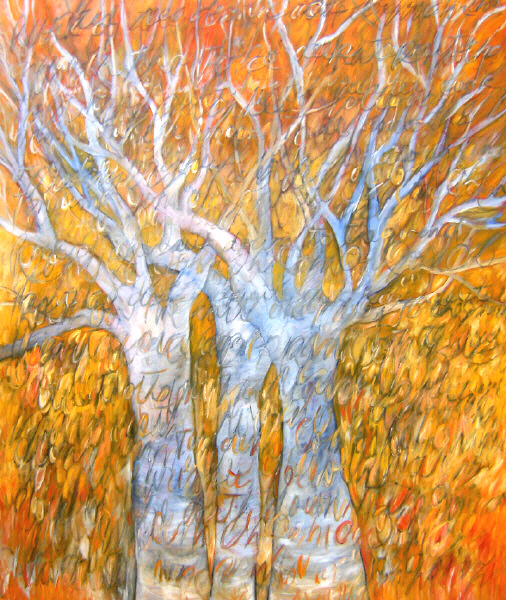 In Tandem
72 in x 60 in
oil & graphite on canvas
I see city trees as markers of how time passes; many were here before I was born and some will be here when I'm gone. They are like protectors; they provide shelter, oxygen, a stable ecological environment, and a sense of peace. Historically they have impacted art and spiritual ideologies.
The trees in my paintings symbolize the spirit and are metaphors for the people in my life. The words layered over the trees are from poems I have written, about the people in my immediate circle and people I know in the city. I'm interested in exploring the dynamics of space and energy created when the words are combined with the tree shape. Mark-making or the written word reveals unexpected symbols and shapes. This approach is not unlike automatic writing, done by Paul Klee and Mark Tobey, or Wassily Kandinsky's approach in his study of the spirit in art. Medieval artist Simone Martini used flat space in painting his immediate environment; these four artists have been an inspiration to me for over thirty years.
'City Trees, Other Voices', represents icons and totems. Coniferous trees were totems to Emily Carr; my west coast trees are deciduous, bare of leaves, their branches reaching out, passing over space and time.