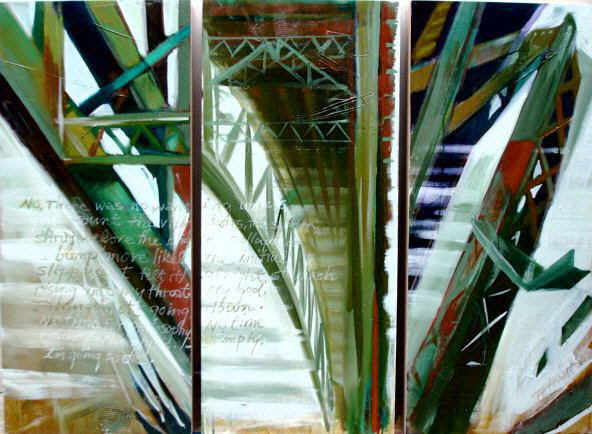 Premonitions (triptych)
36 in x 50 in
acrylic & pastel on panel
The Elliott Louis Gallery is proud to present Smoke, Steel, Sky, an exhibition featuring recent work by well-known artist Richard Tetrault.
Included in this series is an homage to the collapse of Vancouver's Second Narrows Bridge (Ironworkers Memorial Second Narrows Crossing), which happened fifty years ago this June 17th. The works pay tribute to the labourers who lost their lives, and to their place in Vancouver's history. In a four-panel wood/metal freestanding screen, Tetrault fuses figures and structure, projecting both a melancholy sense of fate and a resilient determination where chance plays a critical role in the lives of workers. In another piece, in collaboration with award-winning poet Gary Geddes, Premonition fuses a first hand account of a worker's foreboding as the bridge collapses beneath him. At the opening, Geddes will read a selection from his book Falseworks.
Tetrault's work has always captured an essence of Vancouver that is either overlooked or taken for granted. His paintings and prints focus on emblematic images that range from towers of construction cranes to his signature urban crow. Sourced from the industrial waterfront, harbour and the inner city, this series ventures into new territory for the artist.
Paintings featured in Smoke, Steel, Sky reflect the artist's long-lasting fascination with icons of the urban landscape - bridges, freighters, towering structures and rail lines. Within this industrial aura is the suggestion of human presence, yet these pieces are predominantly devoid of human figures. Instead, Tetrault uses abstraction as a way to suggest a universal character of the contemporary city.