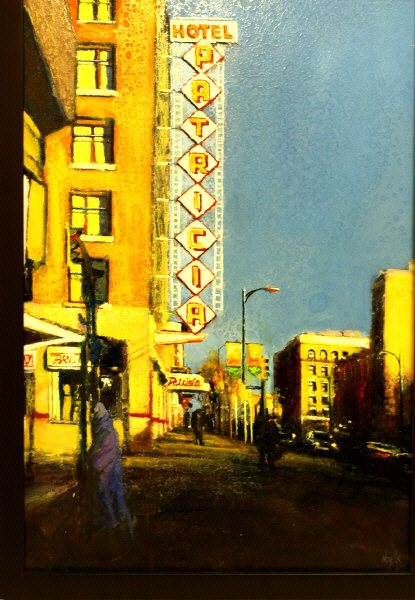 Patricia
36 in x 24 in
oil on canvas
Far from the "maddening' crowd comes to mind when visiting Bruce Woycik in his art studio in downtown Vancouver. Every inch in this serene spot is chock-full of colour and canvas that presents the city and its landmarks through the curious eye of an ardent fan. The Elliott Louis Gallery presents their third Woycik solo exhibition, and the first in the gallery's new location on East First Avenue. "Gentrification", Woycik's latest collection of paintings, records the heart of Vancouver's earliest urban landscape and makes permanent, that which is fast disappearing.
The Ivanhoe, Balmoral and Empress Hotels, Save-On-Meats, Army & Navy Department Store, The Smile Restaurant - one of those breakfast all day diners featuring Chinese/Canadian Food ... no Asian fusion in the old Vancouver. The painting "77 Loans" highlights Woycik's gift of, and dedication to, illumination. The building at 77 East Hastings Street appears golden and grand amongst shabbily sad surroundings.
A heightened blend of colour and light permeates Woycik's work. He achieves this illuminated effect with his trademark of heavily layered paint and, in this series, with the a riot of primary colours. Although the focus is on an older neglected side of the cityscape, the chaos of colour overrides a sombre undertone, and a sense of former grandeur remains.
Woycik, in discussing this body of work, asks, "Were people happier then?"