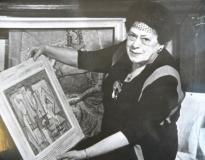 Born
Hamilton, Ontario, 1889
Died
Hamilton, Ontario, 1961

Hortense Gordon took Saturday morning art classes with John Sloan Gordon at the Hamilton Art School while she was a public school student, 1895-1903. She married him in 1920. She studied with Hans Hofmann in 1945; she was the first Canadian to do so and the first to teach his theories in Canada. She taught design and applied arts, particularly china painting, at the Hamilton Technical School 1916-1951 and in 1934 she became head of the Institute. She began painting in an abstract idiom in the mid-1940s. She had her first solo show in 1952. She gave many public lectures on abstract art. She was an Associate of the Royal Canadian Academy, a member of the Canadian Society of Graphic Artists, the Contemporary Artists of Hamilton, the Women's Art Association of Hamilton (founding member), the Ontario Society of Artists (1904), North Shore Arts Association of Gloucester, Massachusetts, the International Federation of Art, Zurich, and the Art Teachers Guild, London. She was a founding member (1953) of Painters Eleven. She showed her work extensively and was known to be enthusiastic about seeking out exhibition opportunities. She showed at Galerie Agnes Lefort, Montreal (solo exhibition 1952), and in "Exhibition of Paintings by Hortense M. Gordon A.R.C.A." in Burlington Public Library, 1957. She showed in annual exhibitions of Hamilton artists 1927-1940 and in annual exhibitions of the Hamilton Women's Art Association, the Contemporary Artists of Hamilton and with the Art Club of Hamilton. She showed with Painters Eleven in various exhibitions in Montreal and Ottawa. Her work was in "Four Modern Canadians," at the Willistead Art Gallery, 1954 (with Jock Macdonald, Sidney Watson and P.H. Taçon). She showed in Canadian Women Artists at Riverside Museum, New York, 1952 and at the 20th Annual Exhibition of American Abstract Artists with Painters Eleven in 1956.