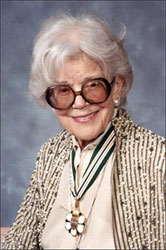 1916 - 2007, Myfanwy Pavelic born in Victoria British Columbia, was one of the few Canadian artists to have their work shown at the British National Portrait Gallery where her portrait of Yehudi Menuhin was displayed.
Pavelic had little formal art training, but at the age of 15 an exhibition was arranged for her by Canada's foremost West Coast painter, Emily Carr. Pavelic's love of music and talent as a musician attracted her to the career of a concert pianist but when a problem with her wrists barred further development in this field, she turned her creativity to drawing and painting.
For several years she spent part of each year in New York. Here she observed the changing climate of the international art world. She experimented with abstract expressionism, but finally reaffirmed her commitment to her own evolving figurative style. She has worked in oil, acrylic, and has successfully experimented with tissue collage. Charcoal, one of her favourite media, has been used for both prepatory sketches and finished drawings.
For most of her career Pavelic focused on the human figure and is renowned for her portrait paintings. Local and international personalities came to her Saanich studio for sittings, from Maxwell Bates and her fellow artists of the Victoria "Limners" group to former Canadian Prime Minister Pierre Elliott Trudeau.
The music world remained a constant interest for Pavelic. Its creative personalities provided her with much subject matter for her paintings and sketches. These included Mstislav Rostropovich, Paul Badura-Skoda, Glen Gould, Jan Cherniavsky, Zara Nelsova, Lazlo Gati, Ravi Shankar - and her close friend, the actress, Katharine Hepburn. Pavelic's now well-known portrait of Yehudi Menuhin was commissioned by Lord Thompson for Fleet for Britain's National Portrait Gallery in 1984.
In 1984 she was made a Member of the Order of Canada; in 2001 she was made a Member of the Order of British Columbia, in 1997 she became a Founding Member of the Canadian Portrait Academy (CPA), in 1998 Pavelic won the "The F.H. Varley Medallion for Best Portrait Painting", was a member of the Royal Canadian Academy and held an Honorary Doctorate of Fine Arts from the University of Victoria.