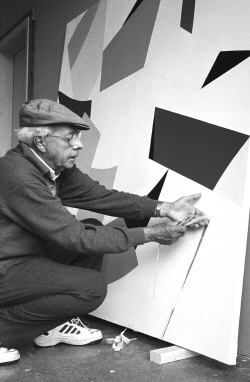 Painting for me is a necessity. As much an act of liberty and passion as it is an act of joy. My works are never fully planned beforehand; they are projections towards the future, invitations to go beyond until they fullfill their final form.

My most recent works set themselves apart from the current trends in visual arts, which generally reject such notions as beauty and transcendence. If I had to name a domain that I feel close to, it would have to be new deconstuctivist architecture because of the complexity of its expression.

Starting from simple lines and forms with pure colors, I seek to create shifting images of lightweight structures involving their own deconstruction and metamorphosis. Unlike the constructivists whose approach was based on science and reason, my "anaconstructions" stem from an organic articulation of space that is life-like in its complexity; transcends rationality and appeals to a sense of passion, to a sense of magic and wonder - much like my automatist works from the 1940's and early 1950's.

Experimenting as I do, my creations are like gifts that are given to me.